Tattersall
Tattersall describes a check or plaid pattern woven into cloth. The pattern is composed of regularly-spaced thin, even vertical warpstripes, repeated horizontally in the weft, thereby forming squares.
The stripes are usually in two alternating colours, generally darker on a light ground. The cloth pattern takes its name fromTattersall's horse market, which was started in London in 1766. During the 1700s at Tattersall's horse market blankets with this checked pattern were sold for use on horses.
Today tattersall is a common pattern, often woven in cotton, particularly in flannel, used for shirts or waistcoats. Traditional shirts of this cloth are often used by horseback riders in formal riding attire, and adorned with a stock tie.
Gingham
Gingham is a medium-weight balanced plain-woven fabric made from dyed cotton or cotton-blend yarn. It is made of carded orcombed, medium or fine yarns, where the colouring is on the warp yarns and always along the grain (weft). Gingham has no right or wrong side with respect to colour.
Broadcloth
Broadcloth is a dense, plain weave woollen cloth. The defining characteristic of Broadcloth is not its finished width, but the fact that it was woven much wider (typically 50 - 75% wider than its finished width) and then heavily milled (traditionally the cloth was worked by heavy wooden trip hammers in hot soapy water in order to shrink it) in order to reduce it to the required width. The effect of the milling process is to draw the yarns much closer together than could be achieved in the loom and allow the individual fibres of the wool to bind together in a felting process. This results in a dense, blind, face cloth with a stiff drape which is highly weatherproof, hard wearing and capable of taking a cut edge without the need for being hemmed. It was made in several parts of England at the end of the medieval period. The raw material was short staple wool, carded and spun intoyarn and then woven on a broad loom to produce cloth 1.75 yards wide. It was then fulled, usually in a fulling mill. When fulled, the fibres of the cloth would felt together, resulting in a smooth surface.
Twill
Twill is a type of textile weave with a pattern of diagonal parallel ribs (in contrast with a satin and plain weave). This is done by passing the weft thread over one or more warp threads and then under two or more warp threads and so on, with a "step" or offset between rows to create the characteristic diagonal pattern. Because of this structure, twills generally drape well. Examples of twill fabric are chino,denim, drill, gabardine, serge, and tweed.
Dobby
Dobby is a woven fabric produced on the dobby loom, characterised by small geometric patterns and extra texture in the cloth. The warp and weft threads may be the same colour or different. Satin threads are particularly effective in this kind of weave as their texture will highlight the pattern. Polo shirts are usually made with dobby. Piqué fabrics are a type of dobby construction.
Piqué
Piqué, or marcella, refers to a weaving style, normally used with cotton yarn, which is characterized by raised parallel cords or fine ribbing. Twilled cotton and corded cotton are close relatives.
The weave is closely associated with white tie, and some accounts even say the fabric was invented specifically for this use. It holds more starch than plain fabric, so produces a stiffer shirt front. Marcella shirts then replaced earlier plain fronts, which remain a valid alternative. Marcella's use then spread to other parts of the dress code and it is now the most common fabric used in the tie and waistcoat of white tie. A knit fabric with a similar texture is used in polo shirts.
Marcella weaving was developed by the Lancashire cotton industry in the late 18th century as a mechanised technique of weaving double cloth with an enclosed heavy cording weft. It was originally used to make imitations of the cordedProvençal quilts made in Marseille, the manufacture of which became an important industry for Lancashire from the late 18th to the early 20th century. The term "marcella" is one of a number of variations on the word "Marseille".
Piqué fabrics are a type of dobby construction. Piqués may be constructed in various patterns such as cord, waffle, honeycomb and birdseye piqués. These fabrics require the addition of extra yarns, called stuffer yarns. These stuffer yarns are incorporated into the back of the fabric to give texture and added depth to the fabric design. Some piqués may be made using the Jacquard attachment on the loom. Although made of 100% cotton today, cotton-silk blends and even pure silk versions were made in the past and in a variety of weaves.
Thread Count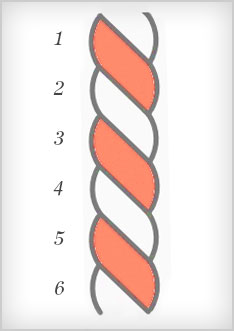 Thread count or threads per inch (TPI) is a measure of the coarseness or fineness of fabric. It is measured by counting the number of threads contained in one square inch of fabric or one square centimeter, including both the length (warp) and width (weft) threads. The thread count is the number of threads counted along two sides (up and across) of the square inch, added together. It is used especially in regard to cotton linens such as bed sheets, and has been known to be used in the classification of towels.
Thread count is often used as a measure of fabric quality, so that "standard" cotton thread counts are around 150 while good-quality sheets start at 180 and a count of 200 or higher is considered percale. Some, but not all, of the extremely high thread counts (typically over 500) tend to be misleading as they usually count the individual threads in "plied" yarns (a yarn that is made by twisting together multiple finer threads). For marketing purposes, a fabric with 250 two-ply yarns in both the vertical and horizontal direction could have the component threads counted to a 1000 thread count although "according to the National Textile Association (NTA), which cites the international standards group ASTM, accepted industry practice is to count each thread as one, even threads spun as two- or three-ply yarn. The Federal Trade Commission in an August 2005 letter to NTA agreed that consumers "could be deceived or misled" by inflated thread counts. In 2002, ASTM proposed a definition for "thread count" that has been called "the industry's first formal definition for thread count". A minority on the ASTM committee argued for the higher yarn count number obtained by counting each single yarn in a plied yarn and cited as authority the provision relating to woven fabric in the Harmonized Tariff Schedule of the United States, which states each ply should be counted as one using the "average yarn number."
Interfacing
Interfacing is a textile used on the unseen or "wrong" side of fabrics to make an area of a garment more rigid. Interfacings can be used to:
stiffen or add body to fabric, such as the interfacing used in shirt collars
strengthen a certain area of the fabric, for instance where buttonholes will be sewn
keep fabrics from stretching out of shape, particularly knit fabrics
Interfacings come in a variety of weights and stiffnesses to suit different purposes. They are also available in different colours,although typically interfacing is white. Generally, the heavier weight a fabric is, the heavier weight an interfacing it will use. Interfacing is sold at fabric stores by the yard or metre from bolts, similar to cutting fabric. Sewing patterns specify if interfacing is needed, the weight of interfacing that is required, and the amount. Some patterns use the same fabric as the garment to create an interfacing, as with sheer fabrics.
Linen
Linen is a textile made from the fibers of the flax plant, Linum usitatissimum. Linen is labor-intensive to manufacture, but when it is made into garments, it is valued for its exceptional coolness and freshness in hot weather.
Percale
The term describes the weave of the fabric, not its content, so percale could be a blend of 50% cotton and 50% polyester, 100% cotton, or a blend of other fabrics in any ratio. A percale weave has a thread count of about 200 or higher, and is noticeably tighter than the standard type of weave used for bed-sheets. It has medium weight, is firm and smooth with no gloss, and warps and washes very well. It is made from both carded and combed yarns. Percale fabrics are made in both solid colors and printed patterns. The finish of the fabric is independent of its weave, so it can be either printed or unprinted.
Selvage
The selvage (US English) or selvedge (British English) is the term for the self-finished edges of fabric. The selvages keep the fabric from unraveling or fraying. The selvages are a result of how the fabric is created. In woven fabric, selvages are the edges that run parallel to the warp (the longitudinal threads that run the entire length of the fabric), and are created by the weft thread looping back at the end of each row. In knitted fabrics, selvages are the unfinished yet structurally sound edges that were neither cast on nor bound off.Historically, the term selvage applied only to loom woven fabric, though now can be applied to flat-knitted fabric.
The terms selvage and selvedge are a corruption of "self-edge", and have been in use since the 16th century.
Staple
Staple length, a property of staple fibres, is a term referring to the average length of a group of fibres of any composition. Staple length depends on the origin of the fibres. natural fibres (such as cotton or wool) have a range of lengths in each sample, so the staple length is an average. For synthetic fibres which have been cut to certain length, the staple length is the same for every fibre in the group.
Staple length is an important criterion for spinning fibre, as shorter fibres are more difficult to spin than longer ones, the former also resulting in more hairy yarns.